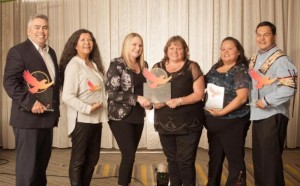 November 6, 2015 – Edmonton, AB – One week ago, Cando (the Council for the Advancement of Native Development Officers) celebrated the many successes of Aboriginal Economic Development in Canada. The 22nd annual conference held in Toronto was an ideal location to bring together Aboriginal Economic Development Officers and key stakeholders from across the land. The theme for this year's conference was "Investing in Aboriginal Economic Development".
Tuesday, October 27, 2015 marked the opening ceremonies for the conference. From the downtown Chelsea Hotel, the conference began with a powerful opening prayer by Elder Gary Sault. Over 300 delegates heard from the Premier of Ontario, Honorable Kathleen Wynne and Chief M. Bryan LaForme from host First Nation, Mississaugas of the New Credit First Nation, among a number of honourary speakers.
"It is a testament to the work you do as Economic Development Officers and to the resiliency of Indigenous peoples", said Premier Wynne in the supportive role of the province. Adding that the province had recently signed a historic Political Accord with Ontario Regional Chief Isadore Day and the Political Confederacy, and were moving forward on acting on the Truth and Reconciliation Commission recommendations.
The National Youth and Women in Business Panels, on Wednesday, October 28, 2015 were highly regarded by many of the delegates who heard from 6 inspiring Aboriginal youth and 4 leading Aboriginal business women from across the country.
Thursday, October 29, 2015, featured the President's Dinner where the Economic Developer of the Year Awards were presented. The awards were based on votes from the delegates, after nominees from three separate categories made presentations earlier in the day. Cliff Fregin of New Relationship Trust won in the Individual EDO category; Jenny Laroqcue of Spirit Staffing & Consulting Ltd. won in Aboriginal Private Sector Business Category; and Chief Jonathan Kruger of Penticton Indian Band Development Corporation won in the Community category. The evening ceremonies were capped with the announcement of next year's 23rd annual conference to be held in Whitehorse, Yukon.
About Cando
Cando is the only national organization that focuses on education and professional development for EDOs working in Aboriginal communities or organizations. Aboriginal controlled, community based, and membership driven. For more information, please contact, Aaron Samuel by email at [email protected].